Retro Kitchen Blog 
Millennials have a lot of rich heritage from which to collect from. The 20th Century had a vast array of design periods to choose utilitarian items from. From the Art Deco period through Mid-Century modern into the 1980s. Starting in the 1990s until to today most items such as Kitchenware were/are made in China and were designed as basic utilitarian, nothing cool and unique.    
Whether you are a single or couple just starting out in making a home, decorating using the past can be fun and cool to showoff to your friends.    
The Art Deco period 1920-40s is one of our favorite design periods with its symmetrical designs. Here is an example of a Deco period toaster.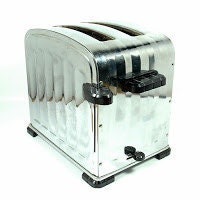 But Mid-Century modern 1950-60s will always be at our hearts as that is the period we grew up in. The atomic and space age look of the designs are every present. While to 1940s and 50s brought us pastel colors of pinks, greens and yellows the 1960s and 1970s brought us "flower power" with obscure kitchen colors such as avocado green refrigerators, harvest gold, coppertone and poppy red stoves.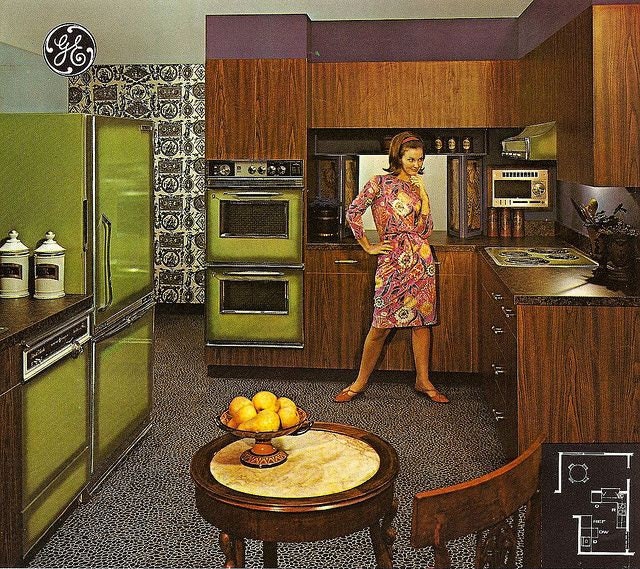 So what can make your kitchen "retro" on an easy budget? Let's take look at Indypicker's kitchen example.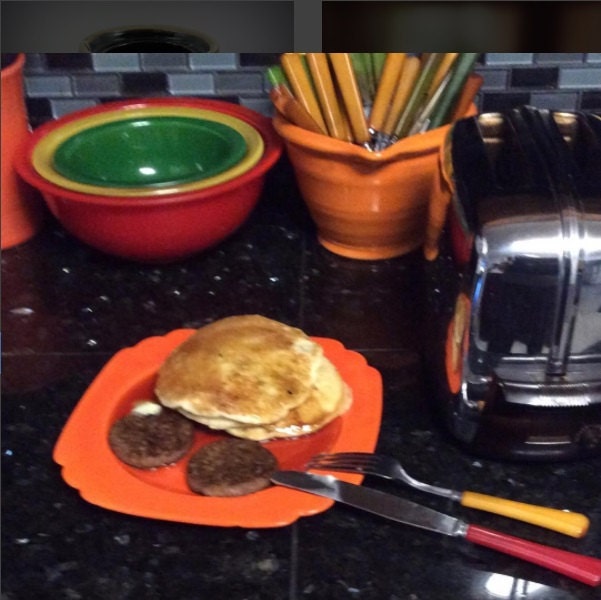 So what do we see in this picture?  Let's start with the kitchen backsplash. Do you see a coca cola bottle color?   Next from left to right is a new orange Fiestaware vase holding kitchen utensils, next are a set of Mid-Century modern Pyrex bowls found in a shop in Mississippi, next is local Dayton Kiln fired pitcher holding the wife's ever growing collection of period Bakelite handle forks, spoons and knives.    
Next is a Fiestaware salt and pepper shaker and butter dish found in Hamilton, Ohio.    
Next is a Mid-Century modern Toastmaster toaster that makes better toast than any Chinese toaster on the market and will last longer. This puppy is from the 1950s.     
And finally an old 1940s Fiestaware plate with Bakelite handle fork and knife. Pancakes and organic sausage by Indypicker.     
As you can see these kitchenware utensils can brighten up any kitchen and yes, we use the Bakelite forks, spoons and knives daily and you may find that the work better than today's Walmart versions.    
Okay, so Indy where do you find these? Start looking at flea markets, garage sales, antique shops and estate sales. These are great weekend adventures with a friend or spouse. And finally on-line as there are many vintage sellers out there including us at www.indypicker.com   
We hope you enjoyed learning about items from the past to design your Retro Kitchen. If you have any question shoot us an email at indypicker@woh.rr.com.    
Until next time, Indypicker